Week of 6/15/20: Insight & Articles We Are Reading
The Impact of COVID-19 to Commercial Interior Spaces

By 
As the COVID-19 crisis impacts New York City and beyond, there remains many questions and uncertainties. How long will social distancing need to be practiced? When and will there be a vaccine created? What new or accelerated work behaviors will continue for the long-term? While the answers to these questions are slow to emerge, one thing is clear: the world we step into post-pandemic will be irrevocably different with new practices and behaviors that will influence the way we live and the way we work.
---
By Emma Weckerling
Bob and Rachel sit down to discuss her unique position in health and wellness and the built environment and what she thinks will change post-pandemic. Rachel is advocating for the design community to distinguish between the interventions that are relevant only for an short period and those that will have long-lasting value to our operations, management and design. She believes that once the threat of COVID-19 is eliminated, we will of course need to have better preparedness measures, but we won't need to ban things like open office plans or handshakes and hugs.
While Rachel feels many parts of life will return to normal soon, there are some changes that will come out of this chapter of history that should be permanent.
---
The COVID-19 pandemic has risked the public's health and safety in buildings across the US and beyond. As states began reopening communities, AIA embarked on an initiative to explore how design strategies, backed by science, can be a public health solution. "Reopening America: Strategies for Safer Buildings," is intended to provide design professionals, employers, building owners, and public officials with tools and resources for reducing risk when re-occupying buildings during the pandemic.
As part of the initiative, the AIA convened a team of architects, public health experts, engineers, and facility managers who conducted virtual design charrettes to develop strategies for:
reducing the spread of pathogens in buildings,
accommodating physical distancing practices,
promoting mental well-being, and
fulfilling alternative operational and functional expectations.
The team developed strategies based on emerging science, infectious disease transmission data, epidemiological models, and research.
---

By Julia Brenner | June 15, 2020
Chicago, Ill.—Located in Chicago's Fulton Market District, Fulton East (215 N. Peoria St.) is a 12-story, 90,000-square-foot office and retail building slated to open late summer 2020. The newly constructed development is also among the first commercial buildings specifically designed for a post COVID-19 world.
---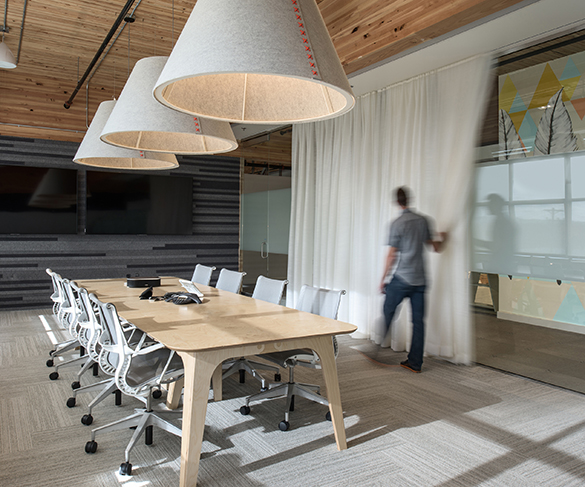 By FilzFelt | June 17, 2020
As we all begin to make the shift back into the workplace, it's more important than ever to create an environment that feels safe and comfortable. Don't know where to begin? FilzFelt has gathered four nifty solutions that make it easy to provide a safer work environment which encourages social distancing with products that are easily integrated, customizable, and look pretty great to boot.
---
Related Resources:
We shape the human experience by creating spaces where people thrive. We leverage our unique concept of "think beyond" to shift the focus from the immediate to the future, from purchase price to long term cost of ownership, from what you can see to what you can't see that really matters. We look at space as a part of your strategy to success.
Saxton is owned and operated by President Kim Augspurger and is a Targeted Small Business, Women Minority Owned in the State of Iowa, as well as certified as a Disadvantaged Business Enterprise.
Kim also owns the local Falkbuilt branch bringing Digital Component Construction to Iowa. We would love to give you the ins and outs about how Falkbuilt will transform your space, shrink your schedule and reduce your environmental footprint. So, get your questions ready, and pop us an email or give us a call. Let's talk Falk.